Win an S3A1 Target Board Kit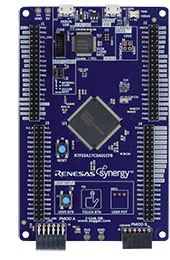 The Renesas Synergy™ S3A1 MCU Group offers 1MB code Flash memory, 192KB SRAM, and ultra-low power consumption in a variety of pin and package footprints.

The TB-S3A1 target board kit provides a platform for evaluating, prototyping and developing with the S3A1 MCU Group.

The kit features:
S3A1 MCU with 48MHz Arm® Cortex®-M4F core
Segger J-Link® On-Board debugger
Full-Speed USB 2.0 device port
Multiple clock sources
User LED and cap touch and mechanical buttons
Fill out the form for your chance to win an S3A1 Target Board Kit!