Enter to Win an AE-CLOUD1 Kit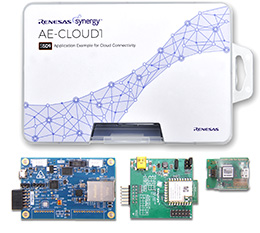 The new Renesas Synergy™ AE-CLOUD1 Kit enables rapid evaluation, prototyping and development of cloud connected applications using the Synergy Platform.

When used with the Synergy Enterprise Cloud Toolbox Application Project, the AE-CLOUD1 Kit provides a reference design and starting point for you to connect to enterprise clouds in 10 minutes or less.

The kit features:
Synergy S5D9 MCU Board
802.11 b/g/n Wi-Fi Board
Segger J-Link® Lite for Renesas Synergy
2 x A male to Micro B male 1ft USB cables
Pre-programmed with the firmware needed to connect to the Renesas IoT Sandbox
Fill out the form for your chance to win a free AE-CLOUD1 Kit!