Enter to Win an RL78/G11 Promo Board
The RL78/G11 Group of MCUs allow users to quickly and easily prototype and develop systems that support low-power sensor hubs and sensor application systems.
The Renesas Promotion Board is designed to evaluate the RL78/G11 25-pin LGA MCU. Its small pen-size of 57mm x 10mm makes it ideal for use as a base board for many kinds of sensor applications.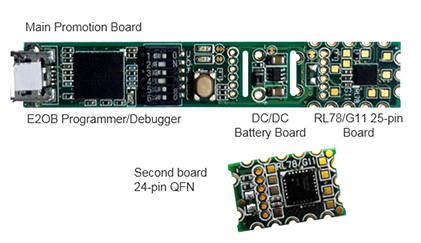 Key features of the new RL78/G11 Board:
Small sensor board 57mm x 10mm + additional RL78/G11 24-pin QFN board
Ultra-low power with smart features such as the Data Transfer Controller, Data Operation Circuit, and Event Link Controller to reduce the CPU load and consequently the average power consumption
E2 Lite On Board (E2OB) programmer / debugger
Option to use DC/DC boost converter to power from a single 1.5V battery cell
Fill out the form for your chance to win a free RL78/G11 promo board!